Export MySQL Data to CSV and Download It as a ZIP File in PHP Tutorial
Submitted by
oretnom23
on Thursday, June 16, 2022 - 11:06.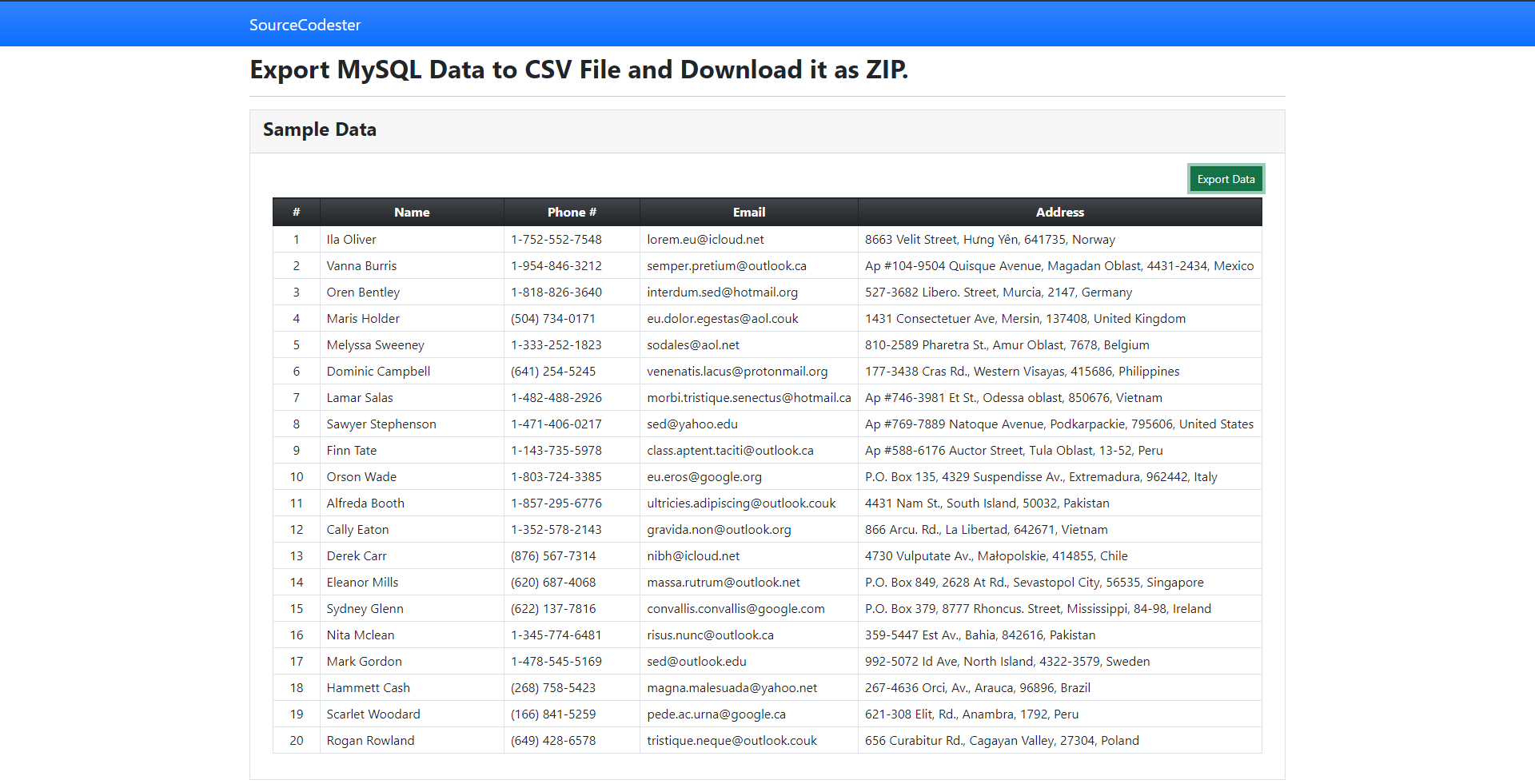 Introduction
In this tutorial, you will learn How to Export MySQL Data into CSV and Download it as a Zip File using PHP Language. Here, I will show to the steps on how to achieve the said feature for your current or future PHP Projects. The main goal of this tutorial is to give the IT Students or new programmers that are new in PHP Language an idea for exporting data to CSV and zipping files in PHP.
Software Needed for this tutorial
Download and Install any virtual server such as XAMPP or WAMPP which contains a Apache and MySQL Server. This will let our local machine run our PHP Scripts
Make sure Zip Library is Enabled in your PHP.
Download and Install any text editor such as Notepad++, Sublime Text, VS Code, or etc.
PHP Methods and Classes to be use
fopen()
fputcsv()
fclose()
ZipArchive()
header()
readFile()
Getting Started
Before we contineu to the coding part, please make sure that your Apache and MySQL server are already started. If not, for those who are using XAMP/WAMPP, open the XAMPP/WAMPP's Control Panel and start the said servers needed.
Create a new folder where you will store all of your source code files. If you are using XAMPP place it inside the htdocs directory or www directory for using WAMPP.
Open your created source code folder into your preferred text editor.
Creation of the Dummy Database
Open your preferred browser such as Chrome Browser and browse the PHPMyAdmin i.e.

http://localhost/phpmyadmin

.
Create a New Database naming dummy_db.
Navigate the page to the SQL Page and copy/paste the following MySQL Script on the provided text field and click the Go button to execute the mysql script.
Creating the Database Connection
In your text editor, create a new PHP File naming db-connect.php. Then, copy/paste the following PHP code. The code below is the script connecting the application to the database. The file will be included to other PHP files that manages data in the database.
Creating the Main Interface
The following code is an HTML File script that contains the codes for the user intarface of sample application. This file contains the also the script of displaying the MySQL Data into a Table Element. Copy/paste the code below and save it as index.php into your source code folder.
Output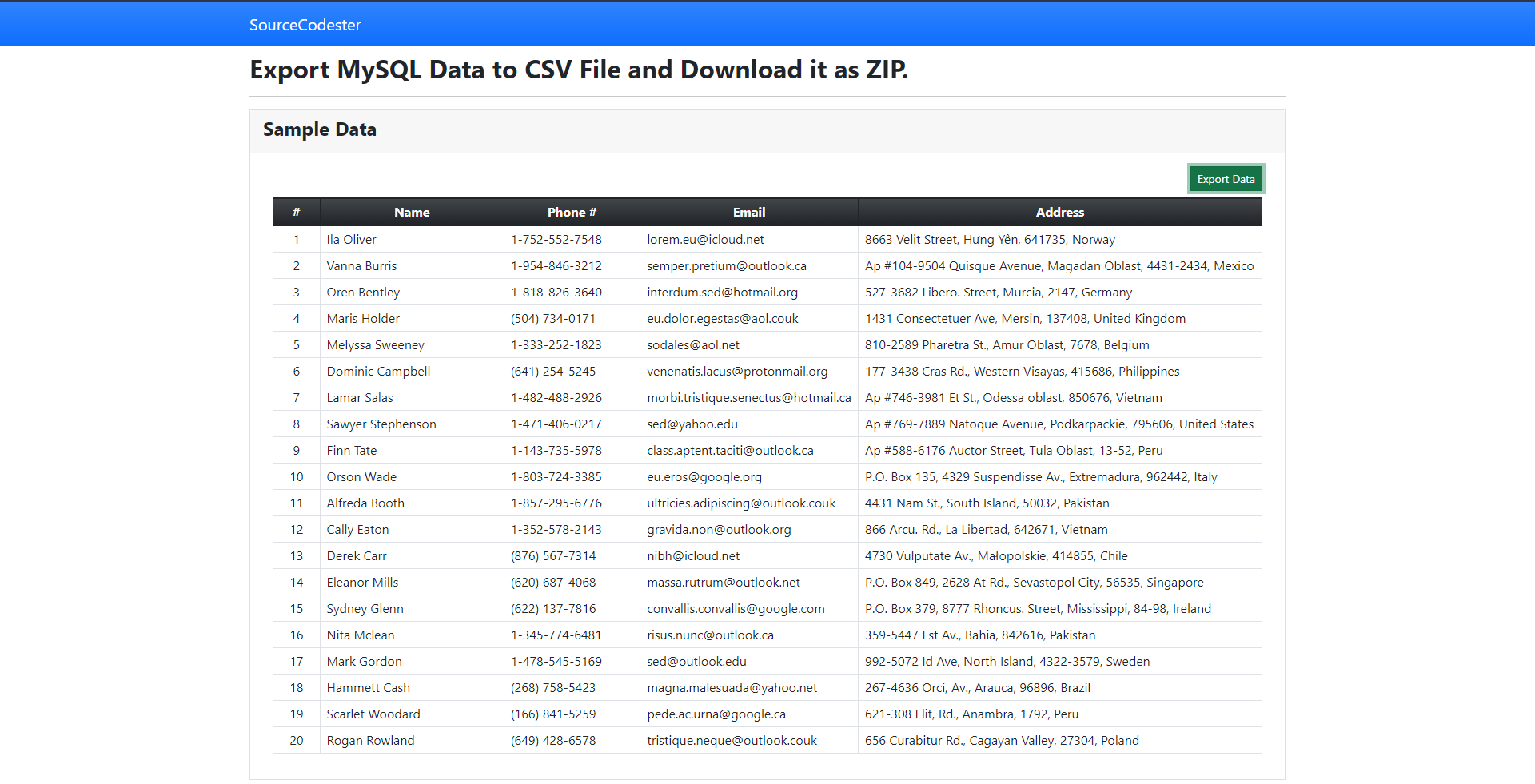 Creating the Main Function
Create a ne PHP File in your source code folder. Name the file as export_data.php. Then, copy/paste PHP code below and save it. This file contains the main function to meet our goal for this tutorial. It contains the Exporting data to CSV process and Downloading the file as a Zip file function. This script will be executed when the user clicks the Export Data button on the front-end.
Output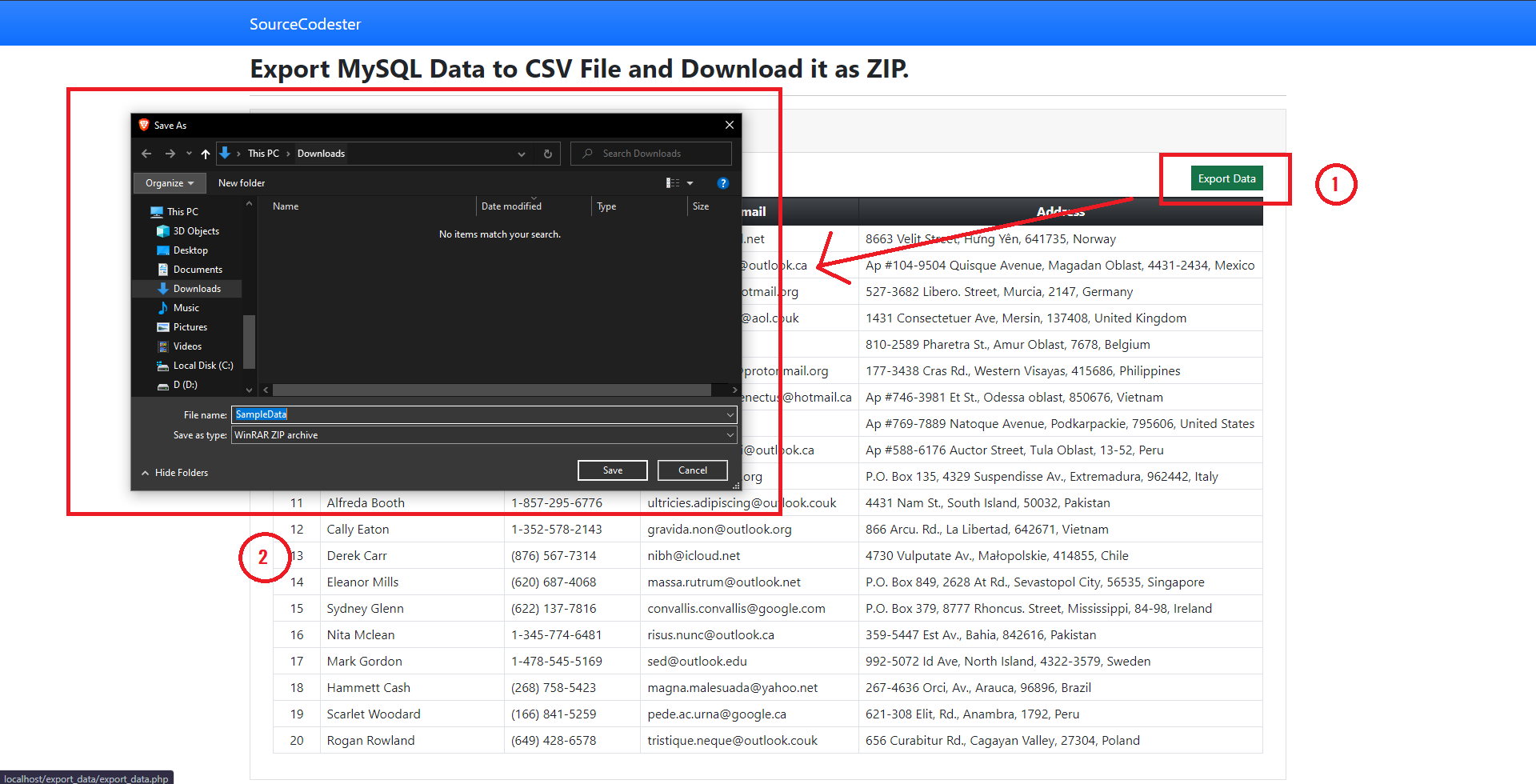 Downloaded File Result
The downloaded file will result as a Zip File naming SampleData.zip that contains a sampleData.csv file.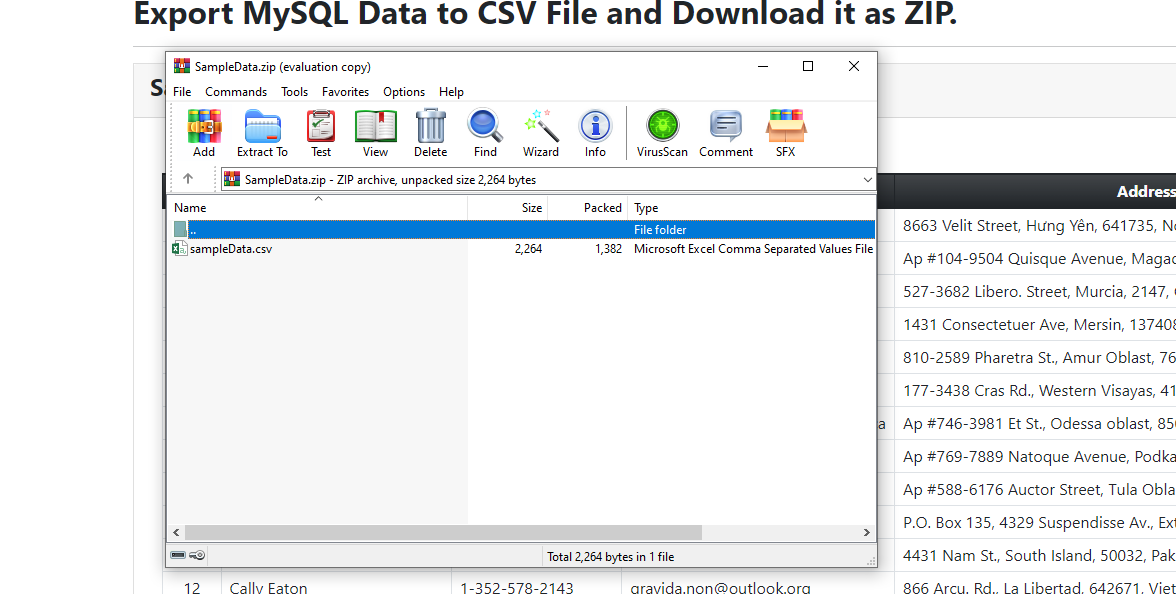 That's it! You can now test the source code on your end and check if it meets our goal for this tutorial which is to Export MySQL Data into CSV File and Download it as a Zip File. If you encountered any errors on your end, please check your source code and differentiate it from the source code I provided above. You can also download the provided zip file of the source code I created for this tutorial.
DEMO ViDEO
That's the end of this tutorial. I hope this will help you with what you are looking for and you'll find this useful for your current and future PHP Projects. Explore more on this website for more Tutorials and Free Source Codes.
Happy Coding :)