View and Display PDF Files in Android
Submitted by
donbermoy
on Friday, January 9, 2015 - 00:00.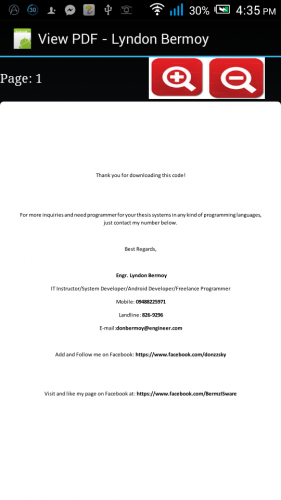 I want to share this project of mine that can view and display PDF files on phone. It does not use Adobe Reader or any app but this is purely of hardcode. This android app views and display PDF files, gets the number of pages, and has zoom in and zoom out button to zoom the PDF. This greatly helps the students in their thesis/capstone projects that involves viewing of PDF files.
Install pdf1_DEBUG.apk inside the Objects folder in your Android phone to run the app.
For more inquiries and need programmer for your thesis systems in any kind of programming languages, just contact my number below.
Best Regards,
Engr. Lyndon Bermoy
IT Instructor/System Developer/Android Developer/Freelance Programmer
Mobile: 09488225971
Landline: 826-9296
E-mail:[email protected]
Add and Follow me on Facebook: https://www.facebook.com/donzzsky
Visit and like my page on Facebook at: https://www.facebook.com/BermzISware
---