How to Access WampServer from another Computer in A LAN
Submitted by
admin
on Tuesday, March 19, 2013 - 15:44.
Body
In this tutorial, you will learn on how to access your web server from another computer in your Local Area Network. This is specific to WampServer. However, you can also use this tutorial on other application similar to
WampServer
. The point on this tutorial is on how to change the configuration of httpd.conf to allow other computer to connect to your localhost where Apache is being installed. By default, Apache does not allow other computer to connect to the server where Appache is installed. A "Forbidden - You don't have permission to access / on this server" is returned when you access your server from other computer. To fix this problem, please follow the steps below: Open httpd.conf as shown in the screenshot below.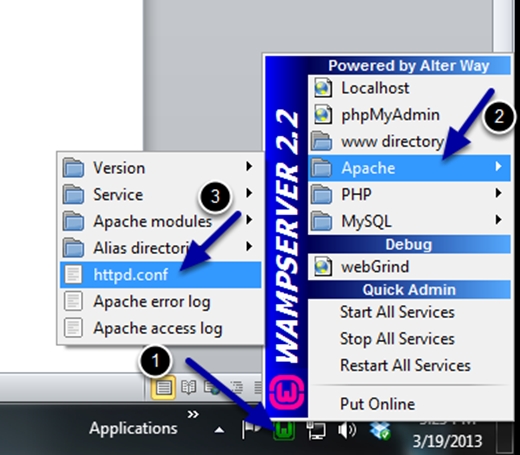 Under "Controls who can get stuff from this server", change "Deny from all" to "Allow from all".

Now, try to access your computer from other computer in your Local Area Network. Be sure to access your computer using your LAN IP Address. The IP Address of your computer should look like below.