Android/Mobile Thesis and Capstone Projects
Submitted by
alpha_luna
on Wednesday, August 10, 2016 - 17:22.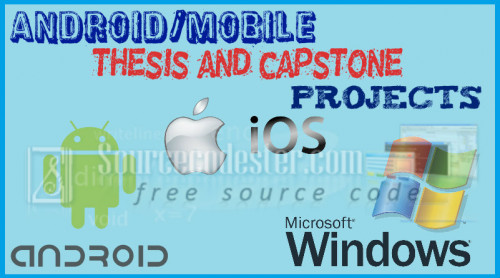 Android/Mobile Thesis and Capstone Projects
If you are looking for
Android/Mobile Thesis and Capstone Projects
then you are at the right place. We have a list of mobile projects below for your capstone and thesis projects in your school. All listed below, it can be create or developed in three major mobile Operating System or OS, those are
IOS
,
Android
, and
Windows
.
Read Also: List of Thesis Title for IT/CS Students
Android/Mobile Thesis and Capstone Projects List
Android Based Faculty Evaluation System
Mobile Learning for Beauty Care K12 Subject
Mobile Based Meeting Notification System
TrabahoFinder: Mobile and Web Application for Job Searching and Posting
KasalMo: Android Based Wedding Planner Application
MobileDocDroid: Android Based Patients Information Management System with Doctor's Prescription
Android Based Menu Ordering App
Mobile Based Electricity Bill Inquiry
Android Based Elearning App
Read Also: List of Thesis Title for IT/CS Students
Java Tutorial Offline
Faculty and Staff Mobile Based Evaluation System
Civil Service Exam Reviewer App
Mobile Based Mangrove Field Guide
Interactive spelling game in Android
Kolour: Psychology of Colors
Mobile Based Nursery Rhymes Collection
Android App Health Tips
Memory Game in Android
Mobile Based News Reader
Diet: Android Based Diet Tips
Mobile Based Veterinary Clinic and Pet Shop Management System
iMaje: Photo Collection of Wedding Events
MusicDroid: Android Based Music Guessing App
iNetTutor Offline: Android Based Programming Tutorials (Java, PHP, MySQL, Visual Basic)
Android Based Baby Lullaby Songs
LET Reviewer with Quiz Application
FiestaMobile: Mobile Based Fiesta Celebration Information in the Philippines
RiddleApp: Bugtong-Bugtong Android Application
Mobile Based Computer Dictionary
School Mobile Portal
Filipino Collection of Bedtime Stories
Tongue Twister Compilation App
Android Based Pageant Tabulation App
Letra: Alphabet Learning App
Pickup Lines Archive Collection
Estorya: Android Based Collection of Children's Story
MusikMoTo: Mobile mp3 player
Notes Manager App
Read Also: List of Thesis Title for IT/CS Students
Mobile Based Grade Inquiry App
Web and Android Hotel Reservation App
Android Based Fitness and Exercise App
FishDroid: Android Based Fish Information App
Web and Mobile Medicine Information System
Android Based Trivia Application
Tourism App: Mobile Based Tourist Destination Information
RememberDPix: Android-based Memory quiz game.
CookDroid: Android Based Cooking Tips and Recipes
Web and Mobile Survey Application
Music for Kids Android App
Android Based Elearning for Computer Fundamentals
Mobile Student Handbook
Psychology App for Android
Android Based Board Exam Reviewer for Agriculture
Android Based Board Exam Reviewer for Criminology
Dialect to Tagalog to English Dictionary App
Mobile First-Aid App
Android Based Entrance Examination with Web Based Admin Panel and SMS Support
Android Based Math Game for Grade 1
Picture Guessing Game in Android
Medical Terminology Dictionary App
Animal Sounds Android App
Drag n Drop Game in Android
Android Based Assessment of Fees Inquiry
Web and Android Based Crime Reporting System
jQuery Mobile Offline Tutorial
HugisMobile: Android Based Shape Learning App
Android Science Elearning App
Read Also: List of Thesis Title for IT/CS Students
Hope that this information will help you a lot.
If you are interested in programming, we have an example of programs that may help you even just in small ways. If you want more tutorials, you can visit our website, click
here
. Share us your thoughts and comments below. Thank you so much for dropping by and reading this tutorial post. For more updates, don't hesitate and feel free to visit this website more often and please share this with your friends or email me at
[email protected]
. Practice Coding. Thank you very much.