Example of Thesis Title Proposal For IT/CS Students
Submitted by
alpha_luna
on Sunday, March 29, 2020 - 21:51.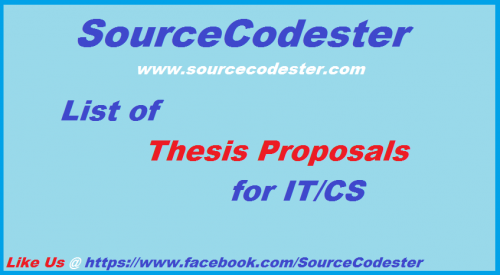 If you are looking for Example of Thesis Title Proposal For IT/CS then you are at the right place. For those IT/CS students who found difficulties to decide their thesis title that you're gonna create I post this to help you to decide. Below is the list of thesis title proposal.
List of Thesis Proposals for IT/CS
Motorcycle Tracking with GPS using Android
Mobile Educational Application for Elementary Student using Android
Class Time Table in Android
Online Grade Inquiry
WEB-BASED TRACKING SYSTEM
Online Grading System
Airline Reservation System
Video Library Management System
Internet Cafe System
Billing System
Electronic Police Clearance System
Salon System
Human Resource Management System
Online billing system
Online membership and billing system
Online class scheduling system
Online POS(Point of Sale)
Online inventory system 
Online payroll system
Online ordering system
Online bidding system
Voting system
Online voting system
Online shopping cart
Medical records system
Client server based guidance system
On-line courseware
Payroll system
Hotel reservation system
Hotel management system
Online hotel reservation system
Online public access catalog
Library system
Record management system
Supply inventory system
E-learning system
Social networking
Hospital system
E-voting system
Online management system
Online Lot Reservation
Online Product Reservation System
Android-Based Class Attendance Monitoring Application using Barcode
Lending Management system
Veterinary Clinic and Pet Shop Management System
Android Joystick Application using Bluetooth
Mobile Point-Of-Sale Application with SMS Notification
Group Messenger Application using Android
Medicine Inventory and Patient Information system
Resort Management System
Mobile Reservation for Banquet Halls
E-Learning System
E-Voting System with SMS technology
On Route Travel Assistant for Public Transport Based on Android Technology
Camera-Based Heart Rate Detector using Android
Mobile Health Tips using Android
Video Rental Application in Android
Quiz Application using Android
Pharmacy Management System
Mobile Pharmacy Application in Android
Geographic Information System with Flood-Prone Location
RFID-Based Student Monitoring System
Home Appliances controlled by Android Smartphone
Intelligent Traveler Locator using Google Map Application
Bluetooth Controlled Robot using Android Mobile (CoE/CpE/IT/CS)
Touch-Screen Based Point-Of-Sale System (POS)
Sales and Inventory Monitoring System with SMS
Weather Forecast Application using Android
Cemetery Mapping and Information System
I hope the above list can help you guys with your Thesis proposal using different programming language. It's all up to you whatever you want programming languages to use. I would like to acknowledge users below: argie and donbermoy for posting List of Thesis Title for IT Student. Share us your thoughts and comments below. Thank you so much for dropping by and reading this blog post. For more updates, don't hesitate and feel free to visit this website more often and please share this with your friends or email me at [email protected].
Practice Coding.
Thank you very much.