How to Import Excel/CSV file to MySQL Database using PHP
Submitted by
joken
on Tuesday, February 2, 2021 - 11:02.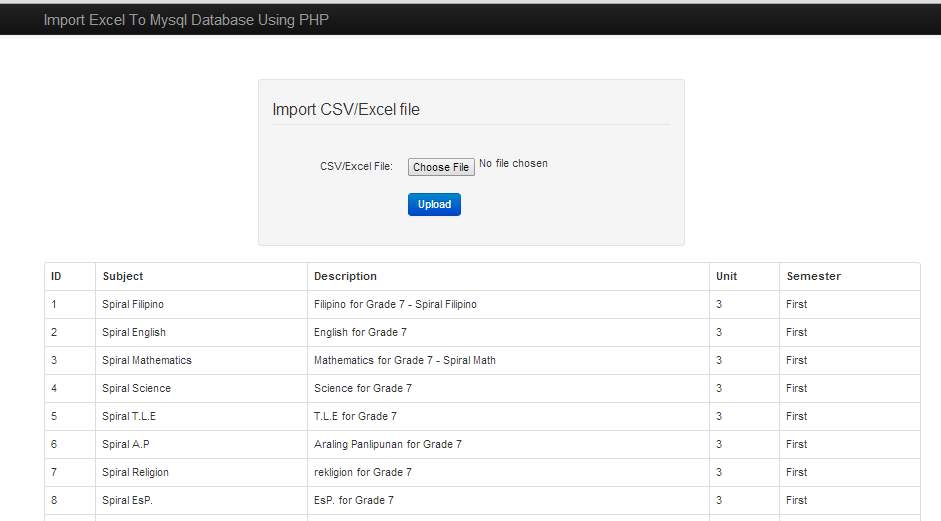 In this tutorial im going to show you how to create n application that can be used to Import CSV/Excel file using PHP. We will create a simple PHP web application that has a form for our import feature and table to display our imported data to the database.
*Upgrade Info
The tutorial source code was originally written in PHP MySQL and I have updated it into PHP MySQLi.
To start with this project, please make sure that you have already installed a local web server that can run PHP script and MySQL Database such as "XAMPP" and "WAMP". Then also make sure that the "Apache" and "MySQL" is started (for XAMPP/WAMP, open the XAMPP/WAMP Control Panel and start the Apache and MySQL).
Now, we will create a Database in your PHPMyAdmin named "studentdb" then execute this SQL query to create a new table called "subject".
Then inside you htdocs or document root folder create a new folder and name it as "excel". Next, we need to create a PHP file naming "db.php" that will hold our database connection and here's the following code:
Next, create another PHP file named "index.php",and this PHP file will be the first page that will load to our browser when we will access/browse the "excel" folder from our web directory. And this file will load all the list of subjects if the subject table is not empty well as this page will allow the user to import the CSV/Excel file and upload the data to MySQL Database.
The page Interface will be look like the image below.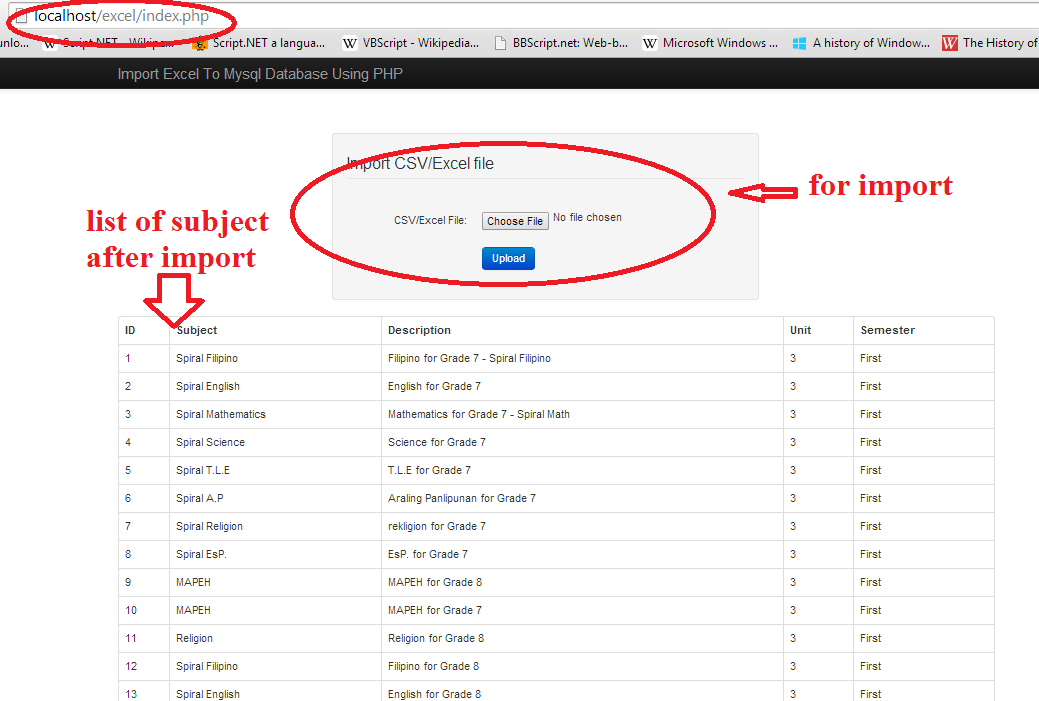 And here's the code for the "index.php" file:
Next, we're going to create another PHP file naming "import.php" that we will use to process the data from CSV/Excel to MySQL Database. Here's the following code:
After this, you can try it on your own, and I have attached with this sourcecode the example CSV/Excel file used for this tutorial, or you can also create a new CSV file to Import using below the below column orders.
| | | | | | | | |
| --- | --- | --- | --- | --- | --- | --- | --- |
| ID | Subject Code | Subject Description | Unit | Pre Requisite | Course ID | AY (Academic Year) | Semester |
DEMO
That's it! That would be the end of our tutorial on Importing CSV/Excel File data to MySQL Database using PHP. By the way in this application I am using the Twitter bootstrap framework, you can download and use it like in this application.
If you want to see some new Source Code or Application and Tutorials Just click here.
Happy Coding :)