Network Tools (Latest Update)
Visitors have accessed this post 1265 times.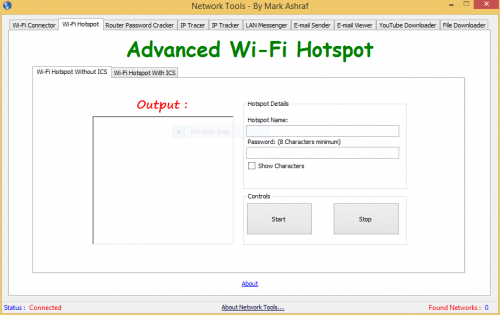 If you have downloaded my source code Network Tools before, I fixed and added some features. You may download the code again to get the latest update.
What's New
-Fixed all the bugs of the old version
-Added Advanced Wi-Fi Hotspot with ICS (Internet Connection Sharing)
This programs contains the following programs:
------------------------------------------------------------------
1-Wi-Fi Connector : Connects To Available Wi-Fi Network.
2-Router Password Cracker : To Crack Router's Gateway Password.
3-IP Trace : Trace The IP Address For Any Website.
4-IP Tracker : Gets Your WAN IP Address.
5-Lan Messenger : Chat Between Computers On Same LAN Network.
6-Email Sender : For Sending E-mails Using SMTP Server.
7-Email Viewer : For Receiving E-mails Using POP3 Server.
8-YouTube Downloader : For Downloading YouTube Videos.
9-File Downloader : For Downloading Files.
For any (suggestions/opinions/bugs/comments) Contact Me :-
My E-mail : [email protected]