Complete Python Bootcamp: Go From Zero to Hero in Python
Screenshot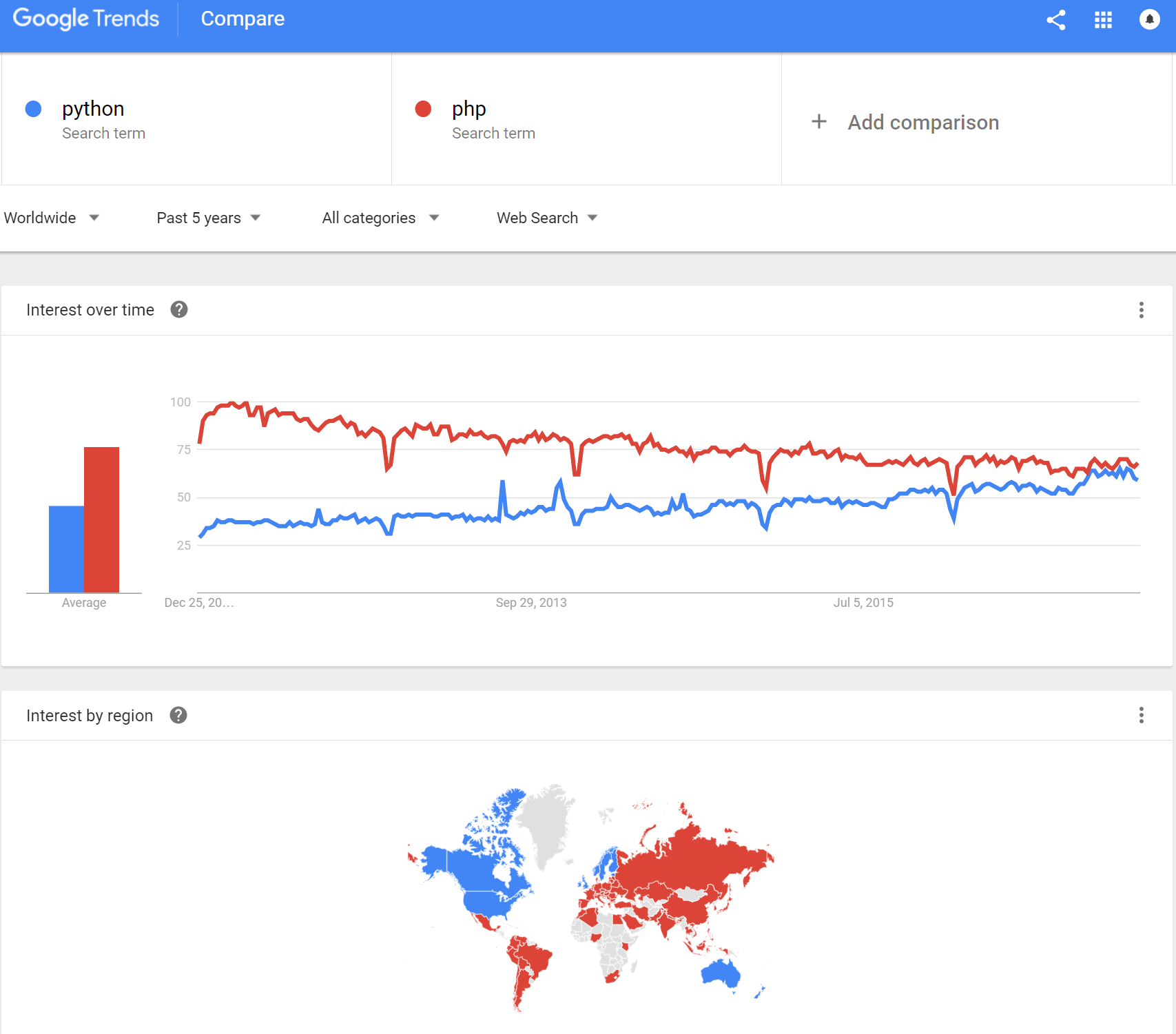 For a developer like me, it's a must to maintain what we already know while learning new things at the same time. I've been a PHP developer for many years and more language has now been developed and developers of different groups opted on using what they can adapt into. Generally speaking, Python language remarks with this. For years, Python seems to overlap PHP more especially in developing countries. The diagram below which is taken from Google Trends Insights shows the comparison of Python and PHP for the past five years.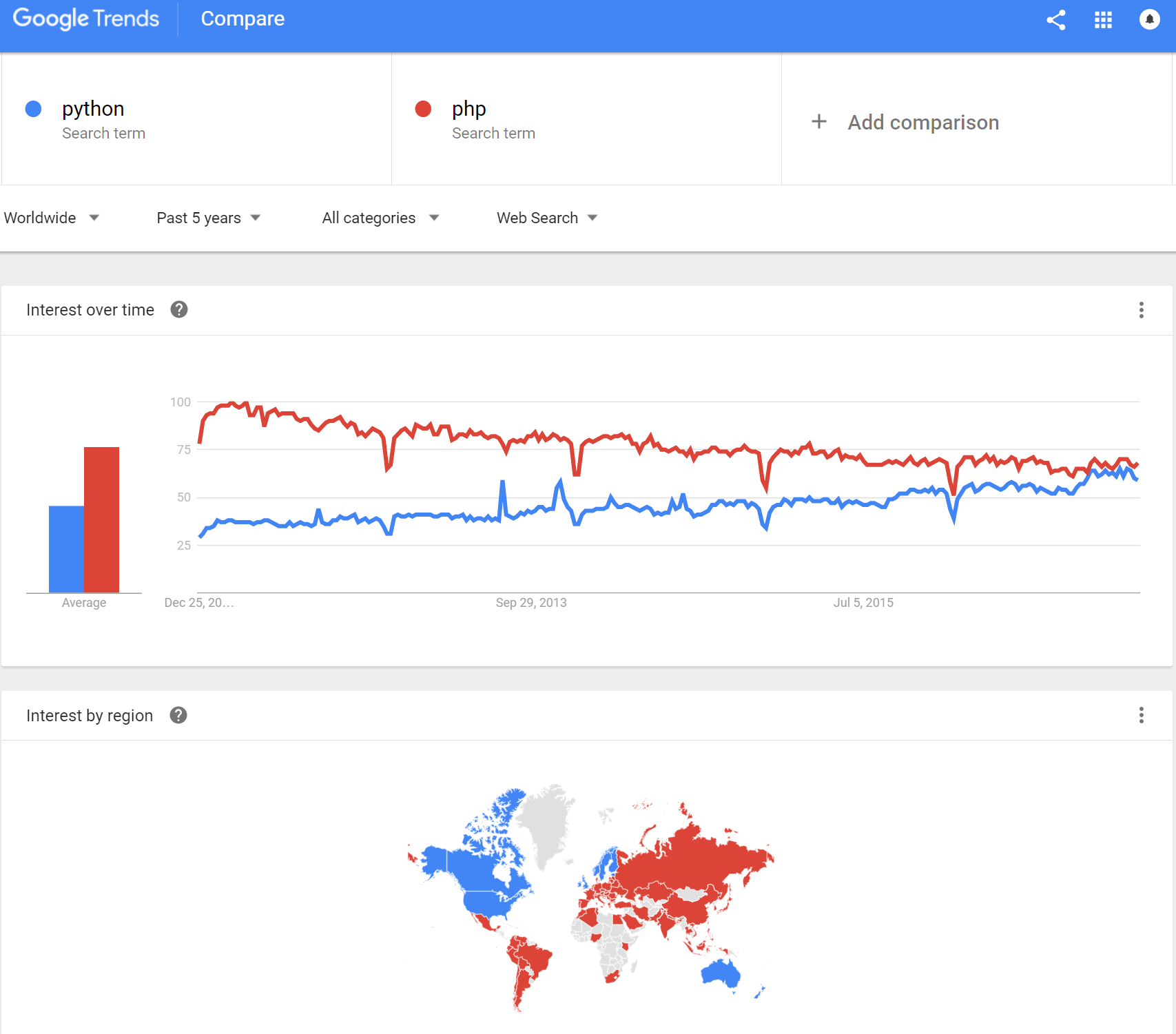 As to deliberate it more, 5 years before, PHP has dominated the industry and now more people are using Python especially in more advanced countries like:
United States
Canada
China
Singapore
Israel
South Korea
United Kingdom
Australia
And a lot more from first world country
For PHP, here's the top 5 list:
Philippines
Nepal
India
Bangladesh
China
I started learning Python, and yes, I found it very easy to understand. In fact, some programmers who used it also commented that it allows programmers to use English keywords. Employment-wise, it would really be a good choice to study Python; though, of course, you should not forget what you learn from PHP. Still, PHP is still in demand today for most developers, and big projects like WordPress, Drupal, and Joomla are still using PHP.
Who uses Python anyway? Here are some of the well-known companies who used Python:
Apture
Digg
Dropbox
Eventbrite
FriendFeed
Quora
Pinterest
Reddit
YouTube
Instagram
Google
Want to Learn Python
I found
Complete Python Bootcamp: Go from zero to hero in Python
video tutorial to be easy to understand and targets newbie like me and advanced developer. After buying it and start studying the language, I started to love its simplicity. With over 52,000 students enrolled in this course, it's no wonder that Python will be the next programming language that will supersede PHP. If you are a web developer, Django will surely answer your question. Pinterest as an example is built on Django. It has also been reported that the contractor of NASA is using Python to develop the project named Workflow Automation System (WAS).
What Other Says About This Video Tutorial
Great introduction and jump into the fire for learning Python programming. After completing the course, I feel ready to use this language at my work!
- Alberto Aldana
Awesome course. Teacher is very knowledgable and walks you step by step through all the lessons. There are tons of examples and reference material, along with some very challenging practice problems. Great class, terrific teacher!
-
Micah Shull
I come from a background in Java and have recently been working in Python. I came in with a strong background in OOO concepts, and a basic understanding of Python. This course has helped me learn some of the nuances of Python, and has been especially helpful with teaching built in Python functions. I will get a lot of use out of what I learned from this course!
-
Eric Saksa
Without any doubt this course is the best Python course for someone who knows nothing about Python. The instructions are clear, audio/video perfect, great teacher, knows what he is talking about, answers any question without any delay. I enrolled to 5 of his courses and this is the second that I have finished yet. I am looking forward to ML in Python. I will recommend this course in both my professional personal life to colleagues and friends. Thank you Jose.
-
Gani Görkem Küçüközmen
A complete Zero to Hero Python Bootcamp. A simple yet detailed explanation. Thanks to this guy, I fell in love with Python at the first learning, and I hope I can expand my knowledge even more in Python. Worth to put Python in my CV.
- Mohammad Zulfiqar WARDI
Conclusion
Learning new programming language is fun and it could add up to your existing knowledge. It's advisable that we learn more language so that when there is a demand, we're ready to dive into it. Learning Python using this course takes only 13 hours to finish. So it's up to you on how you maximize your time in order to finish it as soon as possible. So what are you waiting for? Be the first to learn Python ahead of your competitor. Buy
Complete Python Bootcamp: Go from zero to hero in Python
for a discounted price at
$15
only which is in
$195
original price. This coupon will end anytime soon. So, what are you waiting for? Make it yours!