What is the Python Developer Salary in India?
Submitted by
admin
on Friday, September 2, 2022 - 17:25.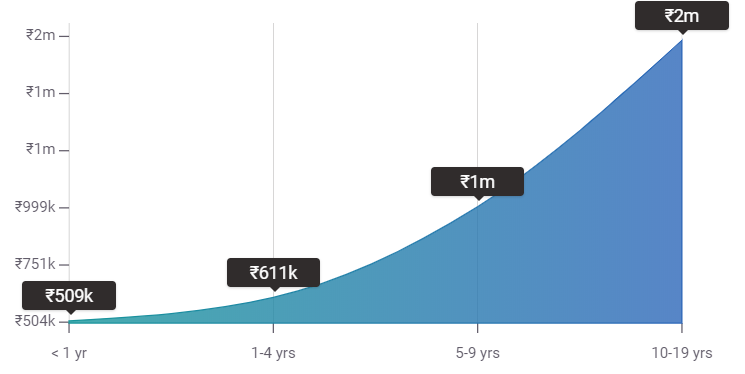 Introduction
Python doesn't need any specific introduction in the programming community. Python programming is growing at lightning speed as it is the third most loved and sought-after language. With the ever-increasing popularity of data science, machine learning, AI, and emerging technology trends, Python is growing even faster and becoming the must-learn programming language. As a result, the majority of software developers are acquiring a promising future and substantial salary by obtaining Python skills. The specialty of Python is that it is easy to learn the object-oriented language and open source. It also has huge library support and is a cross-platform language. As the demand for Python developers is increasing with time, it is estimated that there will be a 22% job growth rate for Python developers by 2030.
If you are a beginner in the programming world or a seasonal developer looking to learn Python language, it is never too late. Python can be learned at any stage of your career. With the increasing popularity of online learning, now you can pursue the best online Python programming course right from your home. Enhance your programming career and become the most sought-after developer by learning Python, one of the top 10 languages to learn in 2022 and beyond. Being said, if you are wondering about the Python developer salary statistics in India, take a look at this article to know Python developer salary information, Python developer job roles, the future of Python, and much more.
Python Developer Salary in India for Freshers and Experienced Professionals
Python developers' salaries are at the top and certified professionals are taking home the highest in-hand salary ever. With the post-covid effect on the majority of businesses across various domains, the adaptation to Business Process Automation (BPA) is very evident and increasing. Many businesses are hiring software and web developers more than before due to the increasing popularity of e-commerce and online shopping. All online business websites are becoming digital and are inclining toward e-commerce. Python developers are the most sought-after professionals across a wide range of major industries such as IT, finance, logistics, retail, entertainment, aerospace, AI & ML, and more.
This proves the increased opportunities for Python skilled professionals across various sectors. You can choose the type of industry and start getting paid the highest ever salary packages in your career. As salary is one of the most considered factors in choosing a job role for many professionals, having a Python certification in your resume will surely bring excellent salary packages. Now, acquire the most advanced Python skills, core concepts, and best practices of python with the best online python programming course for the most advanced and in-demand courses.
Coming to the Python developer salary statistics, it is a no-brainer that the salary package hugely varies from freshers to professionals. As time progresses and you gain more work experience, you will become a master of Python programming and enhance your skills by working on challenging projects. According to Glassdoor, the average base salary of a python developer fresher is ₹ 4,50,000 per annum. The salary pay can go up to as high as ₹ 10 lakh to ₹ 12 lakh for experienced Python developer professionals. In addition to the basic pay, one also receives a bonus, commission, appraisals, and other benefits based on the company you are working in. However, as per PayScale, the minimum python developer salary comes around ₹ 2,25,000 per annum. Read on to know the deciding factors of Python developer salary.
What Are the Determining Factors of Python Developer Salary?
Besides your work experience, various factors determine the size of the salary. The common salary structure includes basic pay, perks, bonus, and other allowances for most of the companies hiring Python developers. However, here are some of the crucial determining factors of Python developer salary:
1. Job Location
India is advancing its tech game and becoming the global hub of innovation. It can also be observed the highest payout for Python developers in the IT capital of India, Bangalore which comes to around ₹9L per year. Take a look at the Python developer salary variations in the top Indian cities and metro locations according to Indeed.
| | |
| --- | --- |
| Location/City | Average Salary Per Annum |
| Bangalore | ₹9,08,233 |
| Hyderabad | ₹8,08,243 |
| Mumbai | ₹7,79,394 |
| Gurgaon | ₹7,56,163 |
| Delhi | ₹7,54,206 |
| Noida | ₹7,30,175 |
| Chennai | ₹6,40,245 |
2. Skillset
More than 40% of IT professionals need upskilling or reskilling by 2025 to be relevant in the market. Incorporating continuous learning and adapting to changing market trends and in-demand skills is very crucial to being the best Python developer in the market. It is also an upside that top enterprises prefer certified Python professionals with in-demand skills to effectively handle the company's programming domain. Hone your Python skills by starting to take up the best online python programming course . Some of the top in-demand skills a Python developer should possess are as follows
Essential soft skills like communication, leadership, problem-solving, analytical skills, corporate skills, informed decision-making, teamwork, and more related skills
Debugging and integration skills
Knowledge of ORM libraries and Python frameworks like Flask, Django, etc.
Able to master cloud computing, AWS, Linux, machine learning, and Git
Being aware of advanced Python skills and Python packages like Scikit and NumPy
Mastering the implementation of string operations and creating modules
3. Type of Industry and Company
Python developer salary widely varies depending on the industry type like IT, AI & ML, gaming, finance, etc. You are going to be paid according to industry standards and policies. The size and form of the company also come into the picture for deciding the salary structure. Few top IT Indian companies and tech leaders offer a typical average python developer salary as given below according to Glassdoor.
 
| | |
| --- | --- |
| Company | Average Annual Salary |
| TCS | ₹4,22,000 |
| Infosys | ₹4,76,538 |
| Wipro | ₹4,00,000 |
| Accenture | ₹5,66,918 |
| Tech Mahindra | ₹4,80,163 |
| IBM | ₹4,47,367 |
| Capgemini | ₹6,66,259 |
Wide Range of Job Roles of Python Developers
There are many hats you will be able to wear and execute by learning just one programming language, Python. Python opens new and exciting doors to your career across industries beyond your imagination. These job roles and job profiles are most sought-after by many Python developers as these are becoming new buzzwords and trending roles. The major and top job roles a Python developer can work in are as follows:
Python Web/Software Developer
Software Engineer
Data Analyst/Scientist
AI & ML Engineer
Python Development Trainer and Data Journalist for Freshers
While the average yearly salary of a typical Python software developer comes to ₹5,73,000 , the highest paying job role is a data scientist with a whopping ₹8,23,000 . As the digital world is taken over by next-gen concepts like AI, ML, IoT, big data, cyber security, etc., data scientists are becoming even more popular and demand for them is rising day by day. Become the ultimate Pythonista by learning the best online python programming course today.
The Future of Python in the Programming World
The Python community is filled with passionate individuals like you which makes it more vibrant and enthusiastic. With more than 8 million Python developers across the globe, you can be assured that this domain is booming with time and has no traces of going back. The world has now become a digital domain where everything is available at your fingertips. Now we are entering into the next level of the digital world with emerging futuristic technologies like quantum computing, AI & ML, RPA, virtual and augmented reality, IoT, blockchain, 5G, edge computing, and more.
These next-gen technologies require strong programming support from Python developer professionals along with expert software developers. Rule the programming world and become the top Pythoneer by joining the best online python programming course from Knowledgehut.
Is Python the Best Career Path for You?
If you get excited and passionate about coding, programming languages, the IT industry, and technological trends, then welcome to the exciting world of coding. Whether you are a newbie brainstorming different ideas regarding where to start your programming career or a directionless employee fed up with a monotonous job, Python is the light that opens exciting and challenging career paths for you. Also, the huge following for the Python language is because of its characteristics. Simple to understand, extreme Python library support, open-source object-oriented language, etc., makes Python the most loved and learned language. You will also get various chances to work with tech giants and industry leaders like Google, Amazon, Netflix, Facebook, YouTube, NASA, and many more by learning one language, the language of the future, Python.
Conclusion
These are significant Python developer salary statistics in India, and we are sure that now you are wondering about a reliable source to hone your Python skills. If you want to learn Python from scratch which is from basics to advanced core concepts and work on hands-on projects, then you only need this Python course to transform your career to the bright side. Presenting the best online python programming course ever from the top IT training platform Knowledgehut. Here, you get to work on real-world Python projects with hands-on experience and practice under the guidance of experienced and top trainers. Sharpen and advance your Python skills and master the concepts and its vast libraries like Pandas, Lambda functions, Web Scraping, and more. Avail of various benefits like in-demand Python skills, 24 hours of live tutor-led online training, 100 plus hours of MCQs and tests, live hands-on projects, an online support community, and more only with Knowledgehut. Start to live a career you truly enjoy and are passionate about.
FAQs
1. What is the average salary for a Python developer in India?
According to Glassdoor, a Python developer's average annual salary in India is around ₹4,50,000/-. Experienced senior Python developers can get as much as ₹12,00,000 which varies based on a variety of factors.
2. Who can join the Python programming course?
Anyone from beginner programmers to expert coders in other traditional languages like Java, C, etc., can learn Python at any stage of their career to be relevant in the changing digital world.
3. Is python relevant in the future?
With the increasing popularity of AI & ML, IoT, big data, and cyber security which are futuristic technologies, Python is growing faster than ever and is now one of the must-learn top 10 programming languages.