Sea Hunter, 132-foot (40 meters) Unmanned Vessel: US Military's Robotic Submarine Hunter
Submitted by
Richan Beran
on Saturday, August 6, 2016 - 16:19.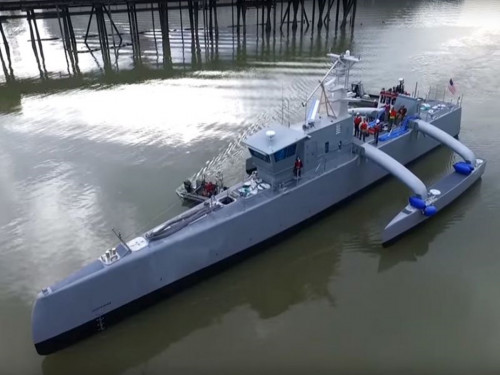 The new unmanned Us military's Submarine Hunter Completes its first tests at sea.
According to a report, the Us military Ship was the first unmanned Military ship that completes its journey on the sea. The robotic design was designed to help the U.S. military to hunt their enemy submarines.
The Submarine was called as the "Sea Hunter," it completes its performance test in the sea.The Submarine was described as the ocean's newest predator that designed to hunt the submarines lurking in the deep of the ocean.
The robotic ship designed to help the U.S. military hunt enemy Submarines, it has completed the first tests at sea. According to a report, the innovative submarine surpassed all the test it includes the all performance objectives for speed, maneuverability, stability, seakeeping, acceleration/deceleration and fuel consumption,
The performance tests off the coast of San Diego have steered the project on a course to enter the U.S. Navy's fleet by 2018, according to the Defense Advanced Research Projects Agency (DARPA), the branch of the U.S. Department of Defense responsible for developing new technologies for the military.
Despite its success to surpass the first performance test, the Sea Hunter still faces a two-year test program, co-sponsored by DARPA and the Office of Naval Research. Leidos said upcoming tests will include assessments of the ship's sensors, the vessel's autonomous controls and more.
The Leidos officials clarified that the submarine-hunting ship was designed for autonomous missions. It will be adle to stay at sea and the drone ship's mission will be to seek out and neutralize enemy submarines, according to the agency.
According to a report, "When the Sea Hunter is fully operational, it will be able to stay at sea for three months with no crew and very little remote control, which can be done from thousands of miles away." the Leidos officials added to their statements.